Contact: Shannon Lebourne
Wednesday 02nd May 2012 – The National Community Foundation`s staged 10th annual Telethon on Sunday April 30th 2012 was a resounding success with the NCF surpassing its target of EC$200,000.
Pending the final count, the NCF has so far tallied the pledges to this year`s Telethon at over EC$261,000.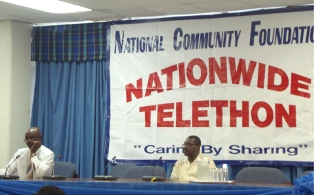 Prime Minister and Minister for Finance and Social Security Honourable Dr Kenny D. Anthony says he is very proud of the way Saint Lucians came out despite present economic hardship to give for the benefit of the less fortunate.
"I am so pleased and thrilled that we can all get together because the National Telethon is one activity which touches the humanitarian impulse in all of us and it's a wonderful feeling to see groups from all around the island volunteering their time to the NCF. We Saint Lucians have a great heart, we have a great spirit, we are very generous and we understand what it is to be unfortunate and what it is for people to go through trauma of one kind or the other and I think this is the kind of occasion when the best of the human spirit comes out in us".
The funds raised at the Telethon will be used to support the work of the NCF, particularly in providing scholarship to qualifying students and medical assistance to many citizens.
The Prime Minister says the NCF plays a vital role in ensuring social security for the unfortunate.
"I think there has been a wonderful legacy of successive governments supporting the work of the NCF and the annual Telethon is a wonderful opportunity for Saint Lucians to get together and give together, to reach out and touch each other's lives and I think that's wonderful".

Prime Minister Anthony and his wife Dr. Rosemarie Antoine in their personal capacities donated EC$1500 to the National Telethon.
In addition the government of Saint Lucia will make its own contribution.
Dr Anthony says the national telethon has the support of the highest office in the land.