Contact: Office of the Prime Minister
Friday 27 January 2012 – Prime Minister Dr. Kenny D. Anthony on Thursday, January 26, 2012, met with officials of the Chamber of Commerce, Industry and Agriculture, consistent with his undertaking to meet key Social Partners after the General Elections.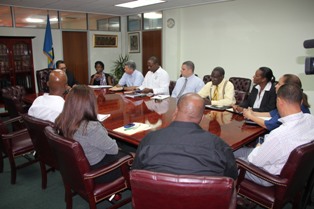 The Chamber identified the need to improve the environment for ease of doing business in Saint Lucia as its number one priority in this year. The Executive Director of the Chamber of Commerce, Mr. Brian Louisy articulated the challenges faced by his members, while highlighting the Chamber's commitment to partnering with Government and training institutions to achieve the common objective of a stronger economy. Hon. Dr. Kenny D. Anthony gave the Government's commitment to ensuring that the necessary environment is created through tax reform, trade facilitation and infrastructural development in order to help the Private Sector to recover from the debilitating economic conditions prevailing at this time.
Dr. Anthony emphasized that, "Upon reflection of what obtains now, and what has been done in the past, it is imperative that we use this period of economic adjustment in a creative way to address and resolve our existing problems. That includes identifying the bottlenecks in the administrative and financial systems and coming up with ways to eliminate them so as to reduce transaction time and cost."
According to the World Bank's June 2011 Economy Rankings, Saint Lucia, which in earlier years had a ranking of 27 is now number 52 in the world for ease of doing business. This ranking can have a negative impact on the attractiveness of the island for foreign investment. Dr. Anthony agreed with the Chamber that the Government of Saint Lucia must act now.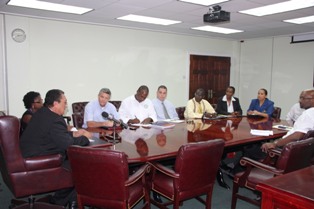 The parties agreed to the establishment of a three member task force to review and assess the "Ease of Doing Business in Saint Lucia" and to make recommendations to the Government to improve the business environment.
From the desk of: Mrs. Jadia Jn. Pierre-Emmanuel, Press Secretary to the Prime Minister.
Contact: (758)468-2177/ (758)720-4992