Contact: Adhara King
Tuesday, January 17, 2012 – The University of Vermont recently completed a two week stint in Saint Lucia, pursuing various social and economic development projects.
This annual visit is as a result of a mutual cooperation agreement between the University and the Ministry of Commerce, Business Development, Investment and Consumer Affairs.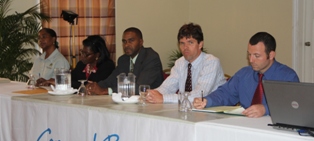 Parliamentary Secretary within that Ministry, Senator the Honourable Ubaldus Raymond says the agreement was initially conceptualised to benefit the consumer affairs department, but has further developed to influence a number of sectors.
"In the Education sector for example, the University of Vermont from 2005 to the present has made donations of books to 5 schools in Saint Lucia, and a donation was made to the Ministry of Education for schools that were most in need and those affected immediately after the passage of Hurricane Tomas, and the flooding in Dennery. Computer labs were also established at the Grace Combined School in Vieux-Fort and at the Dugard Combined School in Choiseul during their prior visits."
In the area of renewable energy, Senator Raymond explained that the University of Vermont assisted in setting up a micro-hydro system and solar panel at Latille Waterfall in Micoud, and a wind turbine in Praslin. Staff of Ministry of Commerce have also benefitted from pursuing short term courses and training at the university.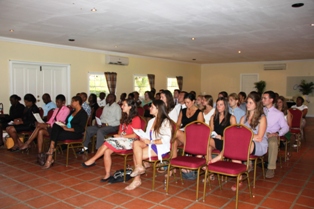 Hence, Senator Raymond reiterated that, "the Government of Saint Lucia is very committed to this agreement, between the University of Vermont and this ministry, as the benefits that have accrued from this exchange is also having economic impact in addition to the socio cultural dimension. In this regard, some allocation will be made in our annual budget to facilitate this annual visit, and this should afford us the opportunity to plan the way forward with the University of Vermont. "
This year, the university engaged in six different projects, including developing a kitchen garden curriculum for two primary schools and a HIV/AIDS education programme through the use of sports.
His ministry is hopeful, Senator Raymond says, that the technical assistance provided through the annual visits will continue well into the future and will redound to tangible benefits in government's economic development thrust.