Contact: Shannon Lebourne
Wednesday, January 18, 2012 – Government is taking a proactive and multifaceted approach to prevent widespread destruction of the banana sector which continues to be affected by the Black Sigatoka Disease.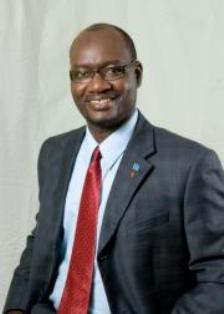 Black Sigatoka is a fungal disease that destroys banana leaves causing much of the leaf area to turn yellow and brown.
Minister for Agriculture and Food Production Honourable Moses Jn. Baptiste says government has requested assistance from a multi-scale team of experts from the University of the West Indies in combating the Black Sigatoka Disease. "The Black Sigatoka Disease has become a national crisis which requires the support from the highest level and from all Saint Lucians, if total disaster is to be avoided. I want to re-emphasise that this situation was left to develop into a crisis proportion and this calls for urgent and decisive action, Therefore the government in which I serve will spare no effort as we seek to confront and manage this dreaded disease which is threatening the livelihoods of a wide cross section of our society".
Following meetings with major banana stakeholders like the National Fair Trade Organisation, WINFRESH and the Banana Production Management Unit, a number of steps have already been taken to control the Black Sigatoka Disease.
These steps include the review of a short term plan of action against the Black Sigatoka and the authorisation by the Minister for Agriculture for assistance to farmers in the form of fungicides for spraying of their plantations. "In addition the Ministry has prepared a proposal which details an action plan and suggest that a Task Force may be necessary to deal with the problem of Black Sigatoka. This proposal will go to my Cabinet colleagues for their consideration this week. It will also encompass all banana and plantain farmers and there will also be a very serious and sustained education component to this plan".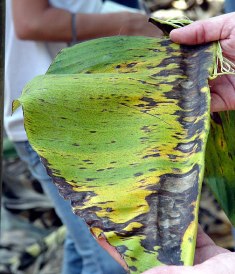 The first symptoms of Black Sigatoka are narrow, rusty, reddish-brown streaks on the underside of leaves.