Contact: Adhara King
Monday, January 09, 2012 – Upon taking office as Member of Parliament for Babonneau and Cabinet Minister, Honourable Alvina Reynolds is expressing her ideal for all Saint Lucians to have a healthy body, a healthy mind and a healthy spirit.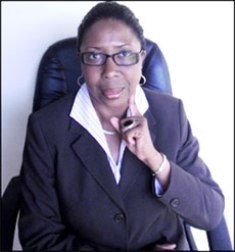 "As I take up the post as your Minister for Health, Wellness, Human Services and Gender Relations I am very aware of the many health issues which confront the people of this country and the financial difficulties which you experience in your attempt to manage these medical conditions. Therefore, Health promotion and the continued march towards Universal Health Care will be high on the agenda of my Ministry during this term in office," Reynolds says.
The welfare of all citizens, Minister Reynolds says, especially that of young people, is a priority for her Government, and as such, she promises to ensure that their issues are adequately addressed.
In her role as Parliamentary Representative for Babonneau, MP Reynolds assures her commitment to her constituency. "I feel honoured to represent a community which is bursting at its seam with such talent, skill, creativity, diversity, richness and yet demonstrates so much humility. I look forward to working together with each and every one of you, irrespective of positions, portfolios, groups, religious denominations, clubs and organisations."
As a team, MP Reynolds says, the government and people should persevere and remain focused on achieving the ultimate goal of making St. Lucia a healthy nation.