Contact: Shannon Lebourne
Thursday, 23 February, 2012 – Their Royal Highnesses Prince and Princess Edward, Earl and Countess of Wessex, ended their official visit to Saint Lucia on Wednesday evening with an assurance of Britain`s commitment to its special relationship with Saint Lucia.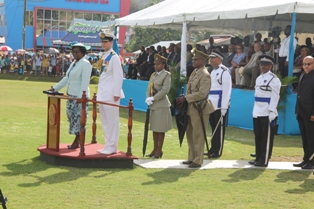 Speaking at a special reception hosted at the Official residence of the Prime Minister, His Royal Highness (HRH) conveyed the queens best wishes to the Government and people of Saint Lucia on thirty three years of Independence.
Prince Edward says Her Majesty Queen Elizabeth II cherishes Saint Lucia. "I know that she regards her role as your head of state and your Queen as being an enormous privilege as you have developed as a nation the fact that you wanted to remain as a realm and wanted the Queen to remain as your Queen, is something that has always meant a great deal to her and she has always taken a particular interest in all of her realms and she follows your fortunes here in Saint Lucia with great interest".
In extending warmest greeting`s to Their Royal Highnesses, Saint Lucia`s Prime Minister Honourable Dr Kenny D. Anthony lauded the long and colourful history between Saint Lucia and Great Britain, one he says has sustained and guided Saint Lucia through many trials, as a small developing country.
Prime Minister Anthony expressed Saint Lucia`s support for Her Majesty Queen Elizabeth II noting that in the toughest times Saint Lucia has never been alone.
"We would like to think that this relationship, this shared and sometimes imperfect history has set the stage for our substantial progress in charting our own economic and political destiny. We would like to think that our past sits, both as a foil and a foundation, on top of which we have accumulated such incontrovertible evidence of our own resilience, our devotion to democratic principles, our closely held values as a society, and our enduring traditions as a brave vibrant people. Indeed, our shared history is the context from which springs our remarkable record of national achievement and our unflagging determination to make a mark on the world, as your island has also done, well beyond any expectation which may arise from casual observation of our size".
The visit by Their Royal Highnesses marked the first stop for the royal couple who will be visiting Barbados, St Vincent and the Grenadines, Grenada, Trinidad & Tobago, Montserrat, St Kitts, Anguilla and Antigua as part of the celebrations to mark the Diamond Jubilee of Her Majesty Queen Elizabeth II.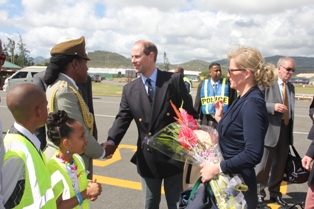 Whilst in Saint Lucia, Prince Edward and his wife Sophie attended the Independence Day Parade, and a cultural dance performance by the Saint Lucia School of Ballet. They also visited the St Lucia School of Music.
The Royal couple also attended the Duke of Edinburgh Awards which were presented by the Prince and the official re-launch of the St John Ambulance Association and the association`s website which was launched by the countess of Wessex. They also attended a welcome reception hosted by the Governor-General Her Excellency Dame Pearlette Louisy.
Their Royal Highnesses Prince and Princess Edward, Earl and Countess of Wessex, arrived in Saint Lucia on Tuesday 21st February 2012 and departed on the evening of Wednesday 22nd February 2012.