Contact: Shannon Lebourne
12 April 2012 – Prime Minister Honourable Dr Kenny Anthony has reaffirmed Saint Lucia's commitment to the Peace Corps Volunteer programme and the United States.
Dr Anthony was speaking on Wednesday April 11 at the Swearing in Ceremony for seven new Peace Corps Volunteers effecting the eighty fourth group of volunteers to serve here.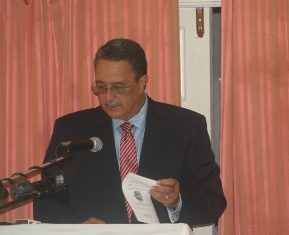 The Prime Minister says the volunteers have touched the lives of numerous Saint Lucians and have helped improve the way of life on the island.
"For over half a century American citizens have integrated their lives into our culture to provide interventions at the community level where it is most needed. The impact on our social landscape cannot be overlooked as it is visible and felt throughout the length and breadth of Saint Lucia. I thank you profusely for your enthusiasm and unwavering support to our youth in particular, whose lives have been transformed by the work of the volunteers. The Peace Corps Programme is truly an exemplary volunteer programme and Saint Lucia`s social development is deeply indebted to this service," Dr. Anthony said.
Saint Lucia was one of the first countries to benefit from the Peace Corps Programme which was initiated by US President John F Kennedy in 1961.
Prime Minister Anthony expressed hope that the Peace Corps Volunteer Programme will help deepen the cooperation between Saint Lucia and the United States.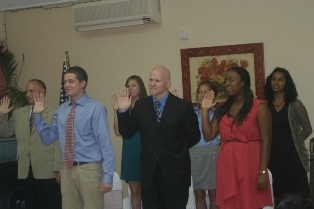 "In an era when governments around the world are grappling with youth unemployment and other related issues coupled with the spread of sexually transmitted diseases such as AIDS, the Peace Corps Programme has seen the need to swiftly adapt its services to tackle new and emerging challenges. The work of the volunteers in areas of youth development, music, small business development, sports coaching and teaching life skills through public and private sector partnerships provide the much needed support that governments require. What is even more noteworthy is the silence of your interventions - Peace Corps Volunteers continue to assist our people with no publicity, fan-fare or pomp," the Prime Minister said.
Since arriving here on January 27 the seven new volunteers received ten weeks of training in preparation for their postings at various institutions.
The volunteers will serve on the island for two years.