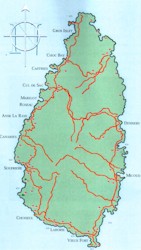 Much of Saint Lucia's early history is shrouded in mystery and myth. It is now known, for example, that Columbus never set foot in Saint Lucia during any of his voyages.

The Amerinidians, who were found inhabiting the island when the first Europeans landed, called the island 'IOUANALAO'. According to the Dominican missionary, Pere Raymond Breton who, sometime around 1650, composed a dictionary of the Amerindian language, that name is purported to mean "There where the Iguana is found". When the Caribs pretended to sell the island to the Barbadians in 1663, the name they used was 'HEWANORRA', which makes one historian, Douglas Taylor, conclude that the name was of Arawak and not of Carib origin.

It is claimed that a group of French seamen who were ship­wrecked on the island on 13th December, 1502 named the island after the Virgin-Martyr of Syracuse, "Sainte Alousie."This name continued to be used by the French chroniclers, du Tertre and Pare Labat, who were in the region during the 17th and 18th centuries, respectively, although a slight variation "Sainte Alouzie" is found in French nautical records of 1624 and 1628. The Vatican globe of 1502, however, has the name "Santa Lucia" for the island, a Spanish map of 1529 has "Saint Luzia", while the Spanish Cedula of 1511 names "Sancta Lucia" as a posses­sion of the Spanish Crown.

Despite the mystery and myth about discovery and names, Saint Lucians have decided to celebrate 13th December as their National Day.

LOCATION & GEOGRAPHY:

Saint Lucia is an island located in the windward group of islands in the Caribbean Sea. The island is of volcanic origin with high lava ridges and craters. St. Lucia has a mountainous center reaching the country's highest point Mt. Gimie at 959 metres (3,146 feet). Tropical rain forests cover the interior and a number of small rivers flow from the central highlands with the principal ones being the Dennery, Fond, Piaye, Doree, Canaries, Roseau and Marquis Rivers.