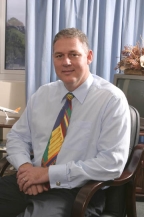 Senator the Honourable Allen M. Chastanet
BIOGRAPHY
1989 – 1991
VICE PRESIDENT SALES AND MARKETING
WINDJAMMER LANDING, ST. LUCIA WI.
Opened and launched a new 214 luxury Resort with the responsibility to promote and sell property on a global basis. Managed a US$1 Million budget creating and implementing all marketing activities including setting rates, designing collateral, advertising campaigns, appointing and working closely with PR agencies and sales teams. Managed the distribution system of tour operators, travel agents, 800's and direct bookings. Additional responsibilities included implementing a sales and marketing strategy for Villa Sales.
1992 – 1994
DIRECTOR OF TOURISM
ST. LUCIA TOURIST BOARD
Allen Chastanet served as the Director of Tourism for his native St. Lucia where he was credited with bringing the small island into the forefront of the Caribbean's tourism industry. He developed and managed all marketing and sales strategies to promote and position St. Lucia as the leading tourist destination and established the now world renowned St. Lucia Jazz Festival.
1994-1995
DIRECTOR SALES AND MARKETING
ISLAND OUTPOST
Working directly with Mr. Chris Blackwell, founder of the Island Outpost brand of boutique hotels, Allen Chastanet was also responsible for 11 hotels in Miami's South Beach, Jamaica and the Caribbean. However his primary responsibility was to select and manage all the PR and marketing agencies in the US, UK, Europe and the Caribbean. He incorporated the Island Records label and entertainment industry with the hospitality sector.
1995 – 2003
VICE PRESIDENT SALES AND MARKETING, WORLDWIDE.
AIR JAMAICA
Starting as Director of Sales for North America in 1995, Allen Chastanet was quickly promoted to the position of vice President of Sales, Worldwide and then Vice President of Sales and Marketing, Worldwide leading Air Jamaica's global marketing and sales strategy. Under his guidance, Air Jamaica achieved unparalleled growth both in leisure and Caribbean Diaspora markets. In addition, he was instrumental in starting the Air Jamaica Jazz and Blues Festival which today attracts record patrons and arrivals and generates strong expenditures, Islands in the Park and Love Birds Kids Program.
2001 – Allen M Chastanet was named Travel Agent Magazine's "Caribbean Destination Person of the Year".
OCTOBER 2003
MANAGING DIRECTOR
COCO RESORTS
Allen M Chastanet was responsible for the day to day operations and Marketing and Sales efforts of the Caribbean's newest boutique property in Rodney Bay, St. Lucia.
Coco Kreole, a three star hotel provides a quintessential Caribbean experience with all of the modern conveniences for the leisure and business traveler. Coco Kreole won Caribbean Hotel Association's Crystal Award for 'Best Small Hotel" 2006.
Coco Palm, an 83-roomed property which opened September 2005 with Coco Kreole was the Crystal Award winner of the Caribbean Hotel Association's 'Best Small Hotel" award in 2006.
2002 – 2004
CHAIRMAN
CARIBBEAN HOTEL ASSOCIATION'S MARKETING COMMITTEE
2003
CHAIRMAN
ST. LUCIA HOTEL & TOURISM ASSOCIATION MARKETING COMMITTEE
2004
2ND VICE PRESIDENT
ST. LUCIA HOTEL & TOURISM ASSOCIATION
2005 – 2006
CHAIRMAN
CARIBBEAN HOTEL ASSOCIATION'S ADVOCACY COMMITTEE
NOVEMBER 2005 – 2006
PRESIDENT
ST. LUCIA HOTEL & TOURISM ASSOCIATION
DECEMBER 2006
MINISTER FOR TOURISM & CIVIL AVIATION
GOVERNMENT OF SAINT LUCIA.
Following his appointment as Minister for Tourism & Civil Aviation, Allen M. Chastanet, relinquished his position as Managing Director of Coco Resorts. However, he assumed the Chairmanship of the Caribbean Tourism Organization (CTO).
Headquartered in Castries, St. Lucia, Allen Chastanet holds a Bachelor of Arts Degree in Economics and Political Science. He is also a Master of Science and holds a Degree in Development Banking. He obtained these from Bishops University in Quebec and American University in Washington D.C. respectively.
He is married to Raquel and has two beautiful children, daughter Rhyann and son Braden.