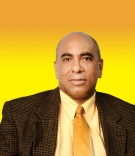 Honourable Dr. Keith Mondesir
CURRICULUM VITAE
| | |
| --- | --- |
| NAME: | Keith Raymond Rufus Mondesir |
| | |
| DATE OF BIRTH: | 23 January 1948 |
| | |
| GENDER: | Male |
| | |
| PLACE OF BIRTH: | Castries, St. Lucia |
| | |
| ADDRESS: | Rodney Bay, Gros-Islet |
| | |
| NATIONALITY: | Saint Lucian |
| | |
| MARITAL STATUS: | Separated |
EDUCATION/QUALIFICATIONS:
· RC Boys Infant School, St. Lucia
· Methodist Primary School, St. Lucia
· St. Mary's College, St. Lucia
· George Brown Collegiate, Canada
· University of Waterloo, Canada – BSc.
· University of Aston, Birmingham, UK – BSc. in Optometry
· University of Houston, TX – Doctor of Optometry (Research on the Optic Nerve Head)
JOB EXPERIENCES
· Malacologist - Belhazia Research (co-sponsored by the St Lucia Government and Rockefeller Foundation, USA.
· Ink Chemist (Research and Development) - Inmount of Canada.
· Paint Chemist (Research and Development) - Pitsburg Paints, Canada.
· Private Practice for over twenty-five years and have continued Research on Contact Lens Solutions and Contact Lens.
Practice:
· Practiced Optometry in the Caribbean – St. Lucia and St. Kitts/Nevis.
AWARD
Caribbean Optometrist of the Year 2008
PRESENT CAREER
I have been running optometry operations in both Canada and the Caribbean.
In St Lucia I operate a clinic where everything in terms of eye care is under one roof that is surgical, ophthalmological, optometric and manufacturing of spectacles.
I also practiced as an Optometrist for 26 years in Winnipeg Manitoba, Canada.
In Nevis, I aided in developing eye care on this island by associating and making it possible to perform eye surgery at the Alexandria Hospital and also in providing after care.
POLITICAL CAREER
I entered politics in 2001 and fought for the constituency of Anse-la-raye/Canaries under a third political party called The Alliance under the leadership of deceased George Odlum and did extremely well with a three week span to fight an election.
On returning to Canada where I lived at the time, and practiced Optometry I decided to return home at the invitation of running for leadership for the opposition at that time the United Workers Party (UWP). I fought for the leadership of the UWP against Dr Vaughn Lewis and Dr Morella Joseph. I remained in opposition with the UWP as the Deputy Leader of the party and I am still Deputy Leader and won my seat with UWP on December 11, 2006. This party presently forms the Government of St Lucia.
Since being in government I have held the position as Minister for Home Affairs National Security and National Mobilization. During that time St Lucia was faced with a serious crime problem. Certain initiatives which were undertaken by me which resulted in a reduction in crime.
I have also held the post of Minister for Physical Planning and National Mobilization and presently I am the Minister for Health, Wellness, Family Affairs, National Mobilization, Human Services and Gender Relations.
HOBBIES/INTERESTS:
· Tennis
· Racquetball
· Squash
· Farming
· Reading
· Business
· Voluntary Community Work