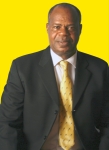 Honourable Arsene Vigil James
Name : Arsene Vigil James
Date of Birth : October 30, 1944
Address : Desruisseaux
P.O. Box 22
Saint Lucia
Tel : 455-4577 (Home)
458-0909/468-5206 (Work)
453-2299 (Fax)
E-mail : arsenejames@hotmail.com
Marital Status : Divorced
Children : Three (3) girls and One (1) boy
Ages: 29 – 36
Education : Desruisseaux Infant School
Micoud Primary School
1957-1965 : Pupil Teacher Programme - 1957-1965
1965-1967 : St. Lucia Teachers' College-
Qualifications
1965-1967 : 2 Qualified Teachers' Certificate
One endorsed by the University of West Indies (UWI)
1976-1978 : B. Ed (Distinction) UWI, Mona Campus
1983-1984 : M.Ed Bristol University
1998-1999 : Diploma in Higher Education (Law)
Holborn College, England
1999-2000 : LLB(Honours) University of Woverhampon, England (Distance Learning)
Subjects Qualified in :
B. Ed (Distinction) Philosophy of Education, Sociology, Educational Psychology, Research method, Guidance and Counselling, Administration and Supervision (major) plus West Indian History.
President :
1976-1978 : Student body of Faculty of Education Represented students on Academic
Board UWI, Mona, Jamaica
M.Ed : Management (core course)
Management and Administration of Secondary Schools
Classroom Interaction and Government and Finance of Education
LLB (Hons.) Major options
Law of Succession viz Wills and the Administration of Estates
Family Law viz Child Law
Company Law 1 and 2
Commercial Law viz (v) Sale of Goods and Consumer and Credit Agency
Profession :
1957-1961 - Teacher : Micoud Primary
1961-1970 - Desruisseaux Infant and Combined School
1970-1977 - Micoud Junior Secondary
1973-1981 - Principal : Micoud Junior Secondary
1981-1985 - Vieux Fort Senior Secondary
1985-1997 - Micoud Secondary
1995-1997 - President : National Principal's Association
1960-1970 - Banana Cultivator
1990's - Broiler Producer
Community Worker
Initiated Adult Literacy Classes Sports, Social and cultural Activities Justice of Peace over twenty (20) years.
1997 Involved in Active Politics
December 3, 2001 - Elected to the St. Lucia Parliament
January 27, 2003 - Elected as Leader of the Opposition
Represents the United Worker Party
(UWP) in the Micoud South Constituency viz Desruisseaux, Blanchard, Anse Ger, Dugard, La Corville and Ti Rocher Micoud
December 2006 – present - Minister of Education