Contact: Claudia Monlouis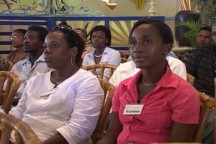 Young Participants in attendance
Friday, December 14, 2007 – The linkages between education, skills and the job market will be strengthened and better rationalized through the newly launched 'OECS Skills for Inclusive Growth Project '.
On Tuesday, December 11th the Ministry of Economic Affairs, Economic Planning, Investment and National Development launched the initiative in collaboration with the Ministry of Education and Culture in Vieux Fort.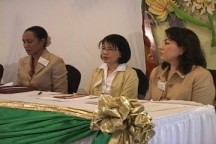 Local and World Bank officials look on
The World Bank funded OECS Skills for Inclusive Growth Project, is designed to increase employability and mobility of unemployed youth, through skills training. The project will further provide skills certification and accreditation by the establishment of standards in Agriculture, Information and Communication Technology, and Hospitality.
Hospitality training will be the first component of the programme and will begin in 2008. Minister for Education and Culture Honourable Arsene James sees the initiative as a new dawn for the unemployed and unskilled youth in particular.
"The concept of inclusion has evolved towards the idea that all youth should have equal learning opportunities regardless of their cultural, social and economic background, or regardless of differences in their abilities and capabilities. The OECS Skills for Inclusive Growth Project is attempting to create an avenue of progress for marginalized youth to make themselves marketable for the world of work," said the Education Minister.
The youth skills project was launched under the theme "Your future is Now" and will be facilitated via the National Skills Development Centre (NSDC). The event took place at the Coconut Bay Hotel in Vieux Fort.