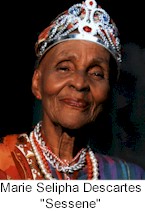 Friday, December 01, 2000 - Marie Selipha "Sesenne" Descartes has received the Honour of the Dame Commander of the Order of the British Empire DBE for her contribution to Folk culture and community service, on the occasion of the observance of the 21st Anniversary of St. Lucia's Independence. Dame Selipha "Sesenne" Descartes, who is popularly known among local circles as one of the foremost exponents of the art of the chantwel in St. Lucia, was among ten other St. Lucians who received medals at the 2000 Queen's Birthday Honours.
Dame Selipha "Sesenne" Descartes has also been instrumental in bringing St. Lucian folk music to the attention of regional and international audiences through her numerous stage performances. She has served as a veritable ambassador for St. Lucia overseas.
During an investiture service for the honorees, Prime Minister Honourable Dr. Kenny Anthony emphasized that the contribution made by Sesenne reflects life and meaning to all Saint Lucians,
"We are not just here to recognize her melodious voice, her capacity, her love to sing, but we are here with her to allow our spirits to rise with her, to find expression in all the beauty which she has given our life, and our country. But there is something that I think we need to focus on. Sessene's contribution is really extraordinary because she has helped each and every one of us to discover ourselves to hold on to what has made us, to reach in the deepest recesses our souls," Dr. Anthony added.
In further recognition of the contribution of the island's Queen of Folk the Government of Saint Lucia has commenced construction on a new dwelling for Dame Selipha Descartes. This home will in time become a national museum.