Contact: Dana Augustin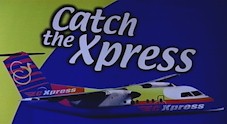 Tuesday 18 March 2000 - Eastern Caribbean Express (E.C. Express) marked its inaugural flight out of Saint Lucia with a grand ceremony on Monday March 17, 2000 at the George F.L. Charles Airport at Vigie. Later that day, the Saint Lucia Tourist Board hosted a dinner at the Bay Gardens Hotel, in Gros-Islet, to welcome the services of the new airline to the island.
Commenting on this development Minister for Tourism and Civil Aviation,Honourable Menissa Rambally, spoke of the various benefits to be derived from the services of the Eastern Caribbean Express. She said, "This new venture also provides employment opportunities for several Saint Lucians whether as sales agents, counter service representatives, flight attendants, pilots or aircraft mechanics. Not only will they benefit, but such benefit will be received by the company and our country Saint Lucia."
Prime Minister, Honourable Dr. Kenny D. Anthony, said it is critical that Saint Lucia is guaranteed seats to facilitate the travelling of persons to and from the island. He suggested that this kind of opportunity should be embraced, as the future of the Caribbean relies heavily on investment by regional investors.
Director of Tourism, Mr. Hiliary Modeste, said the Saint Lucia Tourist Board looks forward to working with the Eastern Caribbean Express. Said Modeste, "We see the coming of EC Express into the region as another way of arriving at some level of stability in terms of providing regional air service to this area."
The Eastern Caribbean Express is a regional airline with a seating capacity of thirty-seven. It has so far allied with Virgin Atlantic, Air Canada and Air Jamaica and discussions are underway with officials of the Delta Airlines for a hub service from Puerto Rico, to Saint Lucia.
Saint Lucia has been chosen as the headquarters for the Eastern Caribbean Express.