ADDRESS TO THE NATION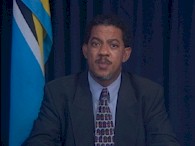 BY HON. MARIO MICHEL, DEPUTY PRIME MINISTER
ON THE PASSAGE OF TROPICAL STORM CHANTAL
August 16, 2001
Fellow St. Lucians, good evening. As I speak, some of you may be feeling the effects of the passage of tropical storm Chantal. Due to the impending passage of the storm, the Hon. Prime Minister who returned to the state on Tuesday evening and was due to have left again this afternoon has delayed his departure so as to be available in the event that we are affected by the passage of the storm. Based on the information from recent bulletins and the forecast, we expect persistent heavy rains, which will cause flooding in low-lying areas. There is also the possibility of landslides.
The Hewanorra Meteorological Office in Vieux-Fort, which remains the official source of information on the weather, has advised that the storm will start affecting the island, particularly in the north, between eight o'clock and nine o'clock tonight. The maximum sustained winds are forty miles per hour, and this storm is extremely large with winds extending to 115 miles to the north of the centre.
I chaired a meeting of the National Emergency Management Organisation (NEMO) today, which was held to assess the level of readiness of all the public sector agencies, ministries and sub-committees of NEMO. I am happy to report that all the agencies have activated their disaster management plans. Government vehicles have been prepared, in case they are required, and emergency power has been organized for some of the remote locations, particularly health centres. I am particularly pleased with the level of readiness of our telecommunications sub-committee, which has mobilized additional portable radios for emergency communications.
In many cases groups of farmers and fishermen have been informed, via the media, of the preventive measures required at this time. While we have been advised that these groups have responded positively to notices from the respective ministries, farmers and fishermen must be mindful of the loss of their means of survival if they do not take extra care in protecting their property and their homes.
Fourteen disaster management committees throughout the island met earlier today and have reported to MEMO on their preparations in the event of any major destruction after the passage of tropical storm Chantal.
We have also been advised by LUCELEC that they too are prepared and have mobilized their entire team to respond to any eventuality. In the event that winds increase beyond sixty miles per hour, the electricity supply will be shut down as a measure to safeguard human lives and property.
Notwithstanding the high level of readiness of the national agencies, individual citizens should not relax and drop their guard. It is the responsibility of every one of us to ensure that all measures are in place to safeguard lives and protect property. This storm is approaching us at a time when parents and children are preparing for the new school term. We would not want to add any more unnecessary expenditure to what is absolutely necessary for school. It is imperative therefore that all measures be taken to safeguard homes and secure whatever has already been obtained for the new school term.
I feel obliged to remind you to remain in the safety of your homes during the night until the passage of the storm. Do not venture out for any unnecessary excitement.
Finally we recognize the easy availability of information on the weather through the Internet and the Weather channel. While I urge you to become familiar with all the information and other issues presented through these media, remember that in times of disaster, rely only on official information released through the Government Information Service. I invite you to keep abreast with the movements of the storm at any time during the day or night, by calling the weather hotline at telephone number 454 3452. The information on the hotline is updated regularly. The number once again is 454 3452. Do not rely on or act on rumours.
I invite you all to keep listening to the local radio and televisions stations including NTN on channel two, for useful information on the storm and safety measures. Specifically you may listen to Radio St. Lucia on the following frequencies: 97.3 and 107.3 FM for persons in the north of the island; 97.7 for persons living in the south of the island. The station is also broadcasting on 660 AM for listeners throughout the island.
Mesysedam, nou adan tan siklon, ek oswe-a nou kay jwen an pil lapli hod an movetan ki lomen Chantal. Nou ka mande tout Sent Lisyen pou pwan pokosyon. Pli boneh jodi-a Loganizasyon pou dezas chenn youn koze pou weflechi asou pwepawasyon pou dezas. E sanm akodi tout minis gouvedman ek lezot konpani kon Lucelec ja mete tou bagay an plas, an tou leka movetan sa la afekte nou an pil.
Mwen ka ankouwaje tou Sent Lisyen pou potoge popwiete yo. Mwen ka mande patikileman moun ki ja depanse an pil lajan pou achte live ek lezot machandiz pou mamay lekol, pwan pokosyon. Nou pa vle plis depans an tan sa la.
Fe asiwe ou twouve enfonmasyon ki vwe ek ofisiel. Toujou koute Radio Sent Lisi ek lezot radio ek television pou enfonmansyon.
Mem si nou ka pwan tou demach sa la, anou tout pwedye pou movetan-an pase san an pil domaj.
Fellow St. Lucians, once again, if you have not taken the necessary safeguards for the passage of tropical storm Chantal, I encourage you to do so now. We have all been through tropical storms and hurricanes and can speak to others about destruction to property. The legacies of Lennie and Debbie can still be seen around us, and the experiences are rekindled ever so often during the hurricane season. Let us all hope and pray that we will be spared the ravages of another natural disaster. All families and households should stay together for strength and support. For others who may have to be at work at this time, continue to take care and hope the worst does not come our way. Have a safe night.