SURFACE TROUGH
(April 29, 2011)
Initial Situational Overview No.1
Report as of April 29th 2011, (2:30 pm)
Introduction........................................................................................................................................ 2
Concept of Operations....................................................................................................................... 2
Summary of Key Impacts.................................................................................................................. 3
District Disaster Committee Reports............................................................................................... 4
Appendix............................................................................................................................................. 6
Types of Assessment Reports for Emergency Relief and Short-term Restoration....................... 6
Heavy rainfall and thunderstorms have been affecting Saint Lucia from April 28th and continuing throughout the day, April 29th and is expected to continue until tomorrow Saturday 30th, when the Met Office expects conditions to improve. Residents of Saint Luca were asked by the Met office to take all necessary precautions against flooding and landslides in areas prone to those hazards. Small craft operators, especially local fishermen were advised against venturing far from port today and tonight because of reduced visibility. Motorists were also advised to exercise extreme caution.
This is an Initial Situational Overview [ISO] which usually occurs between 4-8 hours after the all clear has been given, however due to the nature of this event, this ISO was initiated at approximately 2:30pm on April 29, 2011. The assessment at this stage is informed primarily by District Committee surveys. The information from the First Stage allows the DANA Committee to determine immediate actions necessary to respond to the effects of the events, if required.
<![if !vml]>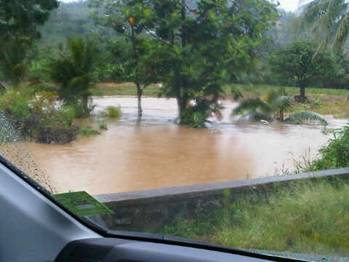 <![endif]>
Roseau river near Morne d'Or
Photo Credit: Veronica Simon
Due to the devastation caused by the passage of Hurricane Tomas on October 30, 2010 several communities and infrastructure were very vulnerable to flooding and land slippage.
Preliminary reports also indicate that the Ti Rocher Bride is flooded.
The town of Soufriere is flooded. The Ministry of Health has activated their Emergency Preparedness Protocols and is in the process of evacuating the Soufriere Hospital.
There is significant flooding reported in the Wingsville area of Soufriere. An emergency shelter has been open to house persons who are in need of shelter.
In the Wingsville area there are reports of an electrical pole being on fire. LUCELEC has been noticed and remedial action is been effected.
The city of Castries was also flooded, leading to disruption of traffic, businesses and services.
The village of Canaries is also significantly flooded. The streets of High Street and Cork streets particularly flooded.
Due to heavy siltation in adjacent rivers, Bexon and other locations were particularly vulnerable with the occurrence of any moderate rain. Preliminary report indicate that the area was severely flooded which might necessitate the evacuation of several households.
With the expectation of further rains, it is strongly recommended the communities at high flooding and landslide risk be monitored and evacuated to nearby shelters. It is also recommended that urgent action be taken to desilt clogged ravines and drains.

District

Source

Reports

Radio Status

Alternative Communication

Gros Islet

Jennifer Gaston

Flooding near GI Police Station

Babonneau

Norma Herman

Unable to make contact as yet

Attempting to call

Castries North

Allison Joseph

Unable to make contact as yet

Castries Central

Davis Paul

Flooding in Castries: Victoria Street, Jeremie Street, Lower Bridge Street. (Flooding is at knee-high level)

Via Phone

Castries East

Mary Eddison

Nothing to report as yet. As of 1:37pm

No radios

Via Phone

Castries South East

Terry Valcin

1. One landslide at Sarrot

2. One house partially damaged as result of the landslide

3. No injuries

4. Rivers in the area almost on the road

5. Sarrot Bridge is now impassable-12:30pm

No radios

Via Phone

Canaries

Ian Fredrick

1. Significant Flooding in the village

2. One emergency shelter open at the Canaries RC Church

3. Shelter was unoccupied as of 1:30pm

Via cell phone

Anse-La-Raye

Stephen Griffith

Unable to make contact

Trying to make contact

Choiseul

Elmira Joseph

1. Silt on the street between the Fisheries Complex and Solomon street

2. River overflowed its bank next to the station

3. Choiseul Bypass flooded

Not working

Via Phone

Soufriere

Simone Mondesir

1. Landslides in some areas

2. Flooding of Hospital Road

3. Hospital being evacuated

4. Town flooded

5. Soufriere river overflowing its banks near the Hospital

Functioning

Via Radio and phone

Laborie

Ulric Alphonse

1. Village has flooded, however water has started receding

2. One house area in the Morne Le Blanc area

3. House affected by landslipage-occupants had to evacuate to neighbors/ relatives

4. Malgetoute bridge impassable at this time

Working and will turn them on

Via radio and phone

Vieux Fort South

Winston Lubin

Some flooding reported but not considered serious

Not working

Via phone

Vieux Fort North

Faustinus Faissal

Minor landslide at Grace

Lawetvette bridge flooded

One radio is on, and others are charging

Via Radio

Micoud South

Margaret Emmanuel

No reports as yet, however lots of rain

No radios

Via Phone

Micoud North

CDO Wilson

No reports as yet

One radio (Bruce Augustin)

Via Radio and phone
Type of assessment

Time Period

Purpose

Responsibility

Initial Situation Overview [ISO]

4 – 8 hours after the disaster has occurred and/or the All Clear given

To provide a "snap shot" of the situation.

District Committee

Initial Damage Assessment [IDA]

12 - 24 hours after the disaster has occurred

To provide information on overall damages and causalities and needs to permit allocation of critical supplies in the first 24 hours after a disaster.

District Committee

Detailed Sector Report [DSR]

24 - 36 hours after disaster occurs

To summarize data on overall damages and causalities by Sector.

Sector Agencies

National Damage Assessment Report #1

48 hours after disaster

Summary of Information provided over time in the ISO, IDA and the DSR. It also provides more details on damages in order to continue the allocation of emergency resources.

DANA Committee

National Damage Assessment Report #2

7 days after disaster

Revision and update on the First DANA Report

DANA Committee

National Damage Assessment Report #3

14 days after disaster

Revision and update on the Second DANA Report.

This process can be repeated as needed.

DANA Committee

Macro Socio Economic Report

From 21 days after the disaster has occurred.

Starting with the DANA Reports a sector-by-sector analysis of the impact of the event is produced. Sectors are grouped into four categories:

Social

Productive

Infrastructural and

Environment.

OECS Secretariat with DANA Committee
Original signed by Andrew George
……………………………………………..
for A. L. Dawn French
Director - National Emergency Management Organisation
April 29, 2011
Compiled by
Andrew George – Training Officer