Contact: Ryan O'brian
Honourable Stephenson King taking his oath of office to become Saint Lucia's ninth Prime Minister
Sunday, September 9, 2007 – Saint Lucia has a new Prime Minister. The Honourable Stephenson King, Parliamentary Representative for Castries North and Minister was sworn in as the island's ninth Prime Minister following the death of Sir John Compton last Friday 7th September, 2007.
" Now it falls upon me to accept the mantle of leadership that he has left unattended. I accept this honour with all humility with the promise that I shall uphold with great dignity. I shall do my best, with God's help to serve all the people of Saint Lucia without fear or favour to the best of my ability." the new Prime Minister pledged during Sunday's ceremony.
Prime Minister King urged the nation to support the government and to give, the late Prime Minister Sir John Compton a suitable farewell. " I call on you the people of Saint Lucia to pray for me and the government and for those in parliament who maintain and preserve the authority of this great nation. We must now concentrate during this period of national mourning to give Sir John a great farewell, " he added.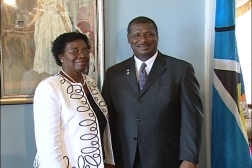 Prime Minister Honourable Stephenson King poses for an official photograph with the Governor General Her Excellency Dame Pearlette Louisy
Governor General Her Excellency Dame Pearlette Louisy presided over the ceremony and highlighted the circumstances under which the ceremony was occasioned.
"This ceremony is taking place not in the usual context of the dissolution of Parliament and the holding of general elections but the context of the unfortunate passing away of the serving Prime Minister, the late, Right Honourable Sir John George Melvin Compton. It has often been said that with his passing we have come to the end of an era,." the Governor Governor General said..
Meanwhile the new Prime Minister will name his new Cabinet when the members are sworn in on Wednesday September 12th, 2007.